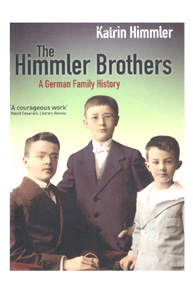 Katrin Himmler
The Himmler Brothers. A German Familiy History
Pan Macmillan (2007)
Paperback (2008) £ 13,99
E-Book (2012) £ 4,99

When Katrin Himmler, the great-niece of Heinrich Himmler, the head of Hitler's SS and chief perpetrator of the Holocaust, was fifteen, one of her schoolmates asked during a history lesson if she was related to the Himmler. 'Yes,' she stammered, at which there was a deathly hush in the classroom and the teacher, embarrassed and unsure, quickly moved the lesson on. As she grew older – and having married an Israeli Jew with whom she had a son – Katrin realized that she could no longer avoid her family history.
Katrin Himmler's cool but meticulous examination of the Himmler story reveals – in all its dark complexity – the gulf between the 'normality' of bourgeois family life and the horrors perpetrated by one member. This riveting family memoir provides essential new information on the private life and background of one of the twentieth century's most notorious killers – not a lone evil executioner, but a middle-class family man, loved and fully supported by his respectable German family. It also offers a unique account of one women's courageous attempt to deal with her chilling inheritance.
'In The Himmler Brothers she breaks the silence in a precise and studied way, carefully marshalling the facts and letting them speak for themselves.'
Times Literary Supplement, 5, October 2007
'Her absence of self-pity is admirable.'
Mail on Sunday, 5, August 2007
'One can only admire her bravery… In a way, Katrin Himmler's book is not a story about the past, but one about the present.'
Daily Telegraph, 28, July 2007
'A courageous work.'
Literary review, July 2007
'You get a vivid sense of a particular kind of German conservatism – Roman Catholic, monarchist – and of how, weirdly, it found an outlet in the upstart, part-pagan thuggery of Nazism.'
Independent, 26, July 2007
'It is part of the creeping discomfort in reading her book to realize the incredibly ordinary middle-class background of these three sons of a rather pompous provincial headmaster and to see how, right until the end, he was almost able to convince himself it hadn't happened like it had.'
Sunday Times, 8, July 2007